Founder's Profile
Allka Shah, Passing out as a graduate in science, fate put me in to diverse activities like editorial and publishing of a financial weekly.
Bucket Visarjan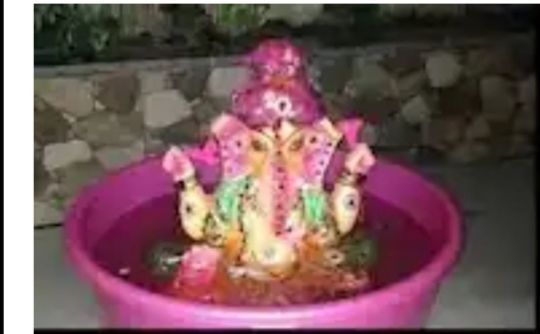 Due to Covid 19 Pandemic Bucket Visarjan at home is safe and environment friendly process.Bidding adieu to Ganpati? This has to be the best way to send him back home too
1)Buy New Bucket or Vessel as per size of Murthy
2) On day of Visarjan Filled Bucket with Water and Rose petals
3) Add thick Sea Salt or Any available
4) Immerse Idol in to bucket than family members can sprinkle water or Rose water with Prayers
Leave it for 2 Hrs and later dispose of to ground.
Ganpati bappa morya! Paryaavaranaachi Kalji Ghyaa!
10 Years of ECOGANESHA
Some Candid Moments With Ex Hon. CM Shri Devendra Fadnavis
DELIVERY CENTERS
For any queries please call 9321814991/ 8779660918
NORTH MUMBAI
VILE PARLE - Pickup Centre & Exhibition is Open
Mrs Rashmi / Saheli - +91 8356981488

Utkarsh Mandal Hall, Malaviya Road, Vile Parle East.
KANDIVALI WEST - Only Pick Up

Mrs Megna - Tel: 7021463891
Mahila Adhar Kendra
Mahavir Nagar
Near Sachin Tendulkar Gymkhana
SOUTH MUMBAI
Center 2:Worli Seaface 702,Bhima Sir Pochkanwala Road, Worli
DELIVERY PICKUP CENTERS
CENTRAL MUMBAI - Only Pickup
Ghatkopar Balkanji Bari Hall, Balkanji Bari Road, Ghatkopar (East),Rajawadj, Mumbai 400077
NAVI MUMBAI
Contact: 9321814991, Tamil Sangam C-1/Sector 9A, Vashi, Navi Mumbai 400703

Book Online & Collect 18 September 2023, Facility Available at Mumbai Only.
Be Eco-friendly 2019 Initiative Supported by:-


Promoted by:-